AISF Patrons
AISF Patrons are corporations, organizations, and independent professionals who have established a relationship with the Association of Independent Schools of Florida. All patrons have been  approved by the AISF Board of Directors, and provide our member schools with exceptional service.
Success in today's classroom is measured by exceeding expectations. When teaching, you want your tools to be as dependable as possible so students will experience learning with optimal retention. Camcor, Inc. is dedicated to making sure you are armed with the technology and innovations needed to help your students make an impact in the world. There is no better way to do that than with your expertise and providing them with the best tools for the classroom.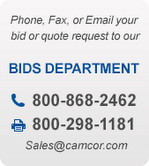 Provide your students with a head start by taking advantage of 15% – 25% off some of our most popular items! Camcor is dedicated to making sure you have everything a successful classroom environment demands. Our experienced team is available to provide easy-to-understand and effective guidance to help you acquire tools for your lessons in the form of projectors, document cameras, interactive boards, computers and much more!
We know how important the right tools can be. Since 1949, our number one goal has been you and to empower your teaching strategy. Let's be overachievers together.
Delivering quality.
Our foundation is our superior yarns – enduring every student's active lifestyle, our uniforms are best in class and built to last. We consistently inspect and refine all our products, maintaining our high standards and exceeding our customer's expectations.
Every DENNIS product is backed by our 100% guarantee for life against manufacturing defects and guaranteed to withstand an entire year's worth of wear and tear. Our uniforms are the best in the industry – designed in-house and manufactured with over 100 years' experience.
Founded in 1919, The Plastridge Insurance Agency has served the South Florida community with a commitment to integrity and trust. Our endurance in the industry is a testament to our vision of consistency and exceptional relationships within the community.
The Plastridge Insurance Agency has evolved into one of the most recognized and trusted insurance agencies in South Florida. We continue to prove to our clients that our agency is dedicated to a personalized approach to a broad spectrum of specialized needs.
We believe in consistent hard work and transparency when working with our clients. Our clients always come first. By empowering an experienced, high caliber team, we develop relationships built on trust and honesty. As a result, we exceed our clients expectations time and again.
Eagle Globe Protective Services was founded in 2012 and through hard work and determination, has grown to be recognized as a premier private security company servicing all of South Florida. We strive to hire and maintain the best security professionals in the market, thoroughly vetting each applicant and placing them through extensive training and close supervision.
Our officers attend courses that include, but are not limited to Tactical Medical Response, "Stop the Bleed" applications, Active Shooter/Hostile Event Response, Tactical Firearms, Use of Force, and Incident De-escalation training. We are proud of the bonds that we build with our clients by collaborating with them and finding solutions to security issues that they face. We consistently exceed our performance expectations and deliver personable and professional excellence in service.